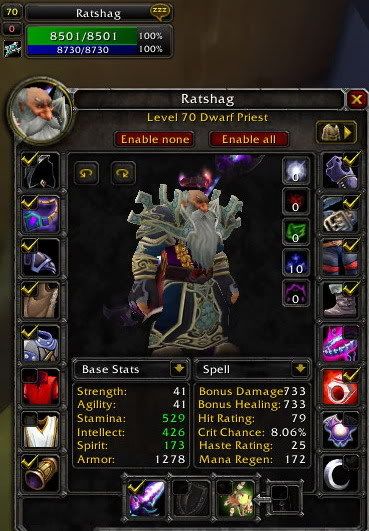 So, me guild is going to knock on Mister "I Haz Warglaives" Illidan's front door tonight and say hello ta
Hyper Warlord Naj
. And the word from the
sqeaky one herself
is:
"
make sure you have at least 8.5K HPs unbuffed for this fight, it is MANDATORY"

Now, if I were runnin' as meself, 'stead of in me squishy dwarf costume, that'd be nuthin'. Fuhg, I's almost there starkers. But I'm priesting it, so is a little tougher. But. A little PvP gear, some fortitudifying enchants, back to the staff 'stead of the one-hander, and looky there. I makes the mandatory.



EDIT FOR GREAT CLARIFICATIONS: Is 8501 health in the completely unbuffified. No fort, no fed, no nuthin'.